Transformers Siege War for Cybertron Shockwave Action Figure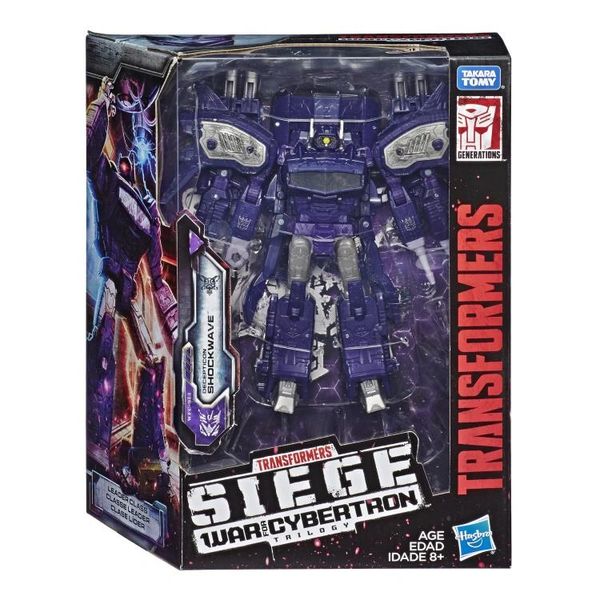 Transformers Siege War for Cybertron Shockwave Action Figure
"Ultimately, I serve only one master... pure logic."
Shockwave has been referred to as "a computer on legs." This is not far from the truth. Logic rules Shockwave's thought processes and is the source of his every inspiration. He sees emotion as a weakness and a distraction. His cold and calculating modus operandi is supported by his frightening and exceptionally powerful form. Shockwave is possibly even more powerful than Megatron. Perhaps logic may one day dictate that the time to replace Megatron's flawed, emotion-fueled rule is at hand. After all, the only logical choice fo Decepticon Leader would be Shockwave himself.
With the Transformers War for Cybertron Siege figures, you can build the ultimate battlefield! Siege plunges fans into the epic fight to survive on the final day of the Autobot and Decepticon battle to control Cybertron! The Decepticon resistance army and the Autobot counter-resistance fighters gear up with the C.O.M.B.A.T. (Cybertronian Omnifuctional Modular Battlefield Assault Tech) System, the universe's most advanced modular weaponry.
The WFC-S14 Shockwave figure features story-inspired battle-worn deco and is equipped with a LV-1 Thermal Range Neuron Beam weapon arm, 2 LV Duo-Pulse Radiograph weapon accessories and 2 LV Gamma-Disruptor Launcher weapon accessories. Multiple C.O.M.B.A.T. System weapons ports in bot and vehicle modes allow fans to attach weapons to figure in custom weapon configurations.
Product Features
9 inch (22.86cm) scale
Made of plastic
War for Cybertron trilogy introduces an expansive ecosystem of collectible figures
Converts in 28 steps
Use parts from the spaceship vehicle mode to armor up the Shockwave 
Customizable weapon loadout
Weapon accessories are compatible with figures across the line
Product Includes:
Shockwave figure
LV-1 Thermal Range Neuron Beam weapon 
2 LV Duo-Pulse Radiographs
2 LV Gamma-Disruptor Launchers
5 Armor accessories
Reviews