Transformers Earthrise War for Cybertron Wheeljack Action Figure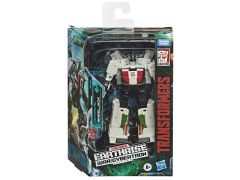 Transformers Earthrise War for Cybertron Wheeljack Action Figure
"It sure is nice when one of my inventions actually works!"
Wheeljack is his own worst enemy. Something of a crackpot inventor, a good half of his creations blow up in his face, and that's just if he's lucky. His constant need to invent increasingly complex devices stems from his desire to improve the Autobots' tech, but as a result he's simultaneously one of the Autobots' greatest assets and problems; for every successful gadget he builds, there's one which requires Ratchet or Hoist to put him (and his lab) back together. But once in a while he strikes gold, which has won him respect from even the Decepticons.
He is, however, not a complete nerd. As good as he is in the lab, Wheeljack is just as amazing on the road: there are few stunts he can't pull off, and he loves to show off his driving skills as much as he does his inventions. He is, however, a little less confident when it comes to flying, which he accomplishes using solid-fuel rocket jets in his forearms.
The siege is over, but the War for Cybertron has just begun! The Autobots and Decepticons have left Cybertron, but their battle rages on as they hurtle through space in pursuit of the Allspark. Both sides must navigate the perils of space and instantly adapt to battle anywhere in the cosmos.

With the highly advanced A.I.R. (Adaptable Interconnection Retrofitter) Locks system, the fighters don't head to the battlefield -- they become it. Bots capable of converting into Modular Battle Stations can A.I.R.-Lock together in custom configurations to fit the needs of battle.
As the battle rages through space, success depends on who can best adapt to the battlefield beyond.
Product Features
5.50 inch (14cm) scale
Made of plastic
This ecosystem of collectible figures allows fans to build out epic space battle scenes
Converts into classic G1 car mode in 18 steps 
Figures can connect to expand the battlefield
Product Includes: 
Wheeljack figure
Weapon accessory
Piece of the Transformers Universe map 
Red decoder to unlock the map's hidden paths
Reviews