Transformers Earthrise War for Cybertron Optimus Prime Action Figure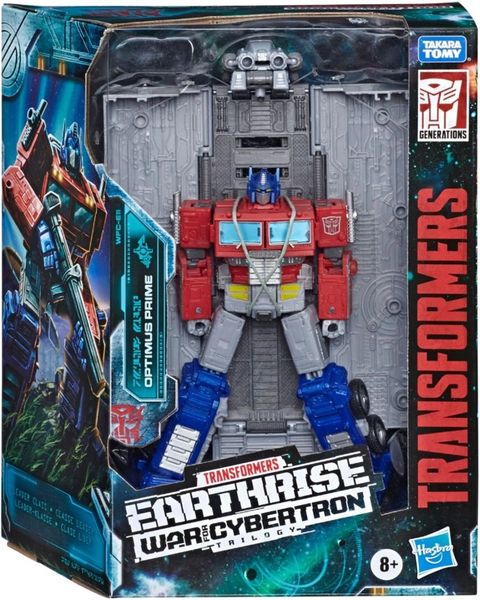 Transformers Earthrise War for Cybertron Optimus Prime Action Figure
"Freedom is the right of all sentient beings."
Optimus Prime is the awe-inspiring leader of the Autobot forces. Selfless and endlessly courageous, he is the complete opposite of his mortal enemy Megatron. Originally a mere civilian known as Orion Pax or Optronix, he was chosen by the Matrix of Leadership to command, the first in a number of heavy burdens he has been forced to bear. Another is his bringing of the Transformers'' conflict to Earth. Every casualty, humanor Cybertronian weighs heavily on his spark. He does not show this side to his soldiers and never succumbs to despair. The Autobots need a decisive, charismatic leader and that is what he gives them. It was that leadership which turned the tide of the Great War.
On the battlefield, there are few who rival Optimus Prime's prowess. He is easily the strongest of any Autobot his size, and his ion blaster and energon-axe are deadly weapons. He would sacrifice his life to protect his fellow Autobots or those under their care and does so on a regular basis. His compassion for other sentient beings is his only real weakness, and one the Decepticons have taken advantage of time and again... though it's also the source of his strength!
'Til all are one! The siege is over, but the War for Cybertron has just begun! The Autobots and Decepticons have left Cybertron, but their battle rages on as they hurtle through space in pursuit of the Allspark. Both sides must navigate the perils of space and instantly adapt to battle anywhere in the cosmos.
With the highly advanced A.I.R. (Adaptable Interconnection Retrofitter) Locks system, the fighters don't head to the battlefield -- they become it. Bots capable of converting into Modular Battle Stations can A.I.R.-Lock together in custom configurations to fit the needs of battle.
Product Features
7 inches (17.78cm)
Made of plastic
Earthrise figures allow fans to build out epic space battle scenes
Figures can connect to expand the battlefield
Optimus Prime can convert into a Modular Battle Station mode
Converts into classic G1 truck mode in 35 steps 
Recommended for ages 8 and up
Product Includes:
Optimus Prime figure
Trailer
Ion blaster
Matrix of Leadership 
Piece of the Transformers Universe map 
Red decoder to unlock the map's hidden paths
Reviews