Transformers Earthrise War for Cybertron Hoist Action Figure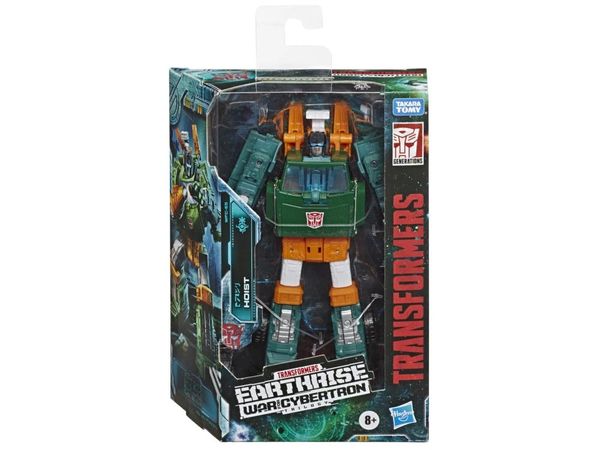 Transformers Earthrise War for Cybertron Hoist Action Figure
If Ratchet is the Autobots' chief surgeon, then Hoist is their family doctor. Everyone reports to Hoist for routine check-ups and maintenance, no exceptions! A jovial, friendly robot, the up-beat Hoist enjoys his job and it shows. He speaks with a cultured accentand can usually be found playing "Dr. Watson" to his friend Grapple's troubled artist in his off-hours.

The siege is over, but the War for Cybertron has just begun! The Autobots and Decepticons have left Cybertron, but their battle rages on as they hurtle through space in pursuit of the Allspark. With unforeseen dangers lurking ahead and the Decepticons closing in from behind, the only way out for the Autobots is to find a way through. Both sides must navigate the perils of space and instantly adapt to battle anywhere in the cosmos.
With the highly advanced A.I.R. (Adaptable Interconnection Retrofitter) Locks system, the fighters don't head to the battlefield -- they become it. Bots capable of converting into Modular Battle Stations can A.I.R.-Lock together in custom configurations to fit the needs of battle.
As the battle rages through space, success depends on who can best adapt to the battlefield beyond.
Product Features
5.50 inch (14cm) scale
Made of plastic
This ecosystem of collectible figures allows fans to build out epic space battle scenes
Converts into classic G1 tow truck mode in 20 steps 
Figures can connect to expand the battlefield
Product Includes:
Hoist figure
Weapon accessory
Piece of the Transformers Universe map 
Red decoder to unlock the map's hidden paths
Reviews