Transformers Earthrise War for Cybertron Cliffjumper Action Figure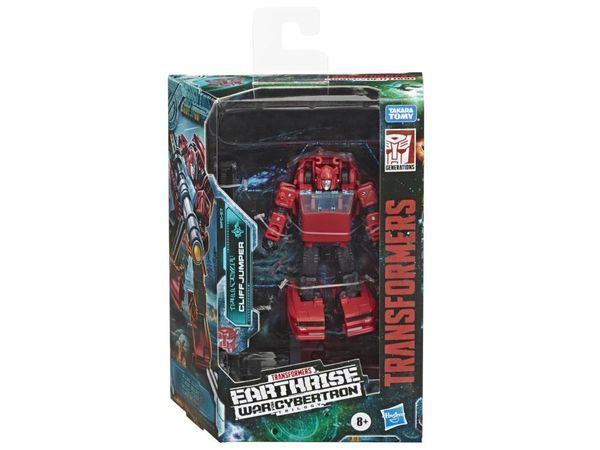 Transformers Earthrise War for Cybertron Cliffjumper Action Figure
"Look at Megatron. I'm gonna blast that smile off his faceplate."
Within Cliffjumper burns the spark of a hero and a dedicated Autobot. On the outside, he's a paranoid, trigger-happy jerk with serious impulse-control problems. Cliffjumper utterly hates the Decepticons. He also hates traitors. And anybody could be a traitor. Therefore, Cliffjumper hates everybody. It's unclear if he hates traitors more than he hates Decepticons, but it's at least a neck-and-neck thing.
He makes a habit of pulling ridiculously hugeguns out of nowhere and attacking impulsively despite orders or sanity. Somehow, this gets him neither killed nor demoted.
Cliffjumper's special weapon is his glass gas, which embrittles metals on contact so that they shatter like glass. He is not immune to its effects, so its use requires careful consideration of wind direction. Actually, this may explain why he prefers the big guns. He doesn't seem like the calculating type.
The siege is over, but the War for Cybertron has just begun! The Autobots and Decepticons have left Cybertron, but their battle rages on as they hurtle through space in pursuit of the Allspark. Both sides must navigate the perils of space and instantly adapt to battle anywhere in the cosmos.
With the highly advanced A.I.R. (Adaptable Interconnection Retrofitter) Locks system, the fighters don't head to the battlefield -- they become it. Bots capable of converting into Modular Battle Stations can A.I.R.-Lock together in custom configurations to fit the needs of battle.
As the battle rages through space, success depends on who can best adapt to the battlefield beyond.
Product Features
5.50 inch (14cm) scale
Made of plastic
This ecosystem of collectible figures allows fans to build out epic space battle scenes
Converts into classic G1 car mode in 18 steps 
Figures can connect to expand the battlefield
Product Includes:
5.50 inch (14cm) scale
Made of plastic
This ecosystem of collectible figures allows fans to build out epic space battle scenes
Converts into classic G1 car mode in 18 steps 
Figures can connect to expand the battlefield
Reviews