Storm Collectibles The King of Fighters '98 Terry Bogard 1/12 Scale Action Figure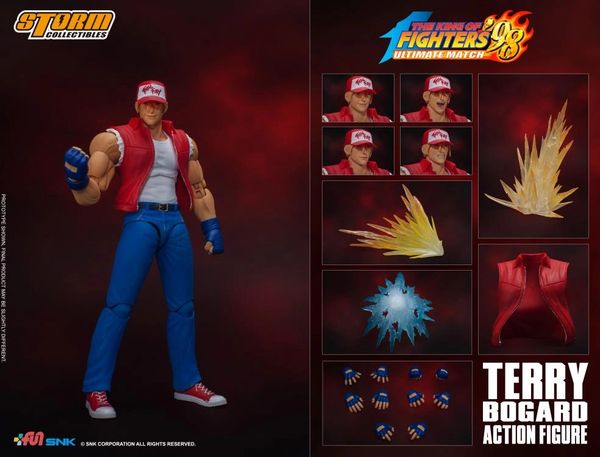 Storm Collectibles The King of Fighters '98 Terry Bogard 1/12 Scale Action Figure
Continuing their partnership with SNK, Storm Collectibles presents The King of Fighters '98 Ultimate Match action figure series. The King of Fighters is one of the most popular arcade fighting games worldwide and The King of Fighters '98 UM is considered to be the dream match with the most complete roster of characters.
Terry Bogard is the iconic main character of the KOF series and has appeared as a playable player in every KOF game to date. Terry and his younger brother Andy Bogard were both orphans adopted by Jeff Bogard. Terry and Andy enter the King of Fighters tournament to avenge their father's death, who was murdered by Geese Howard. Along with their friend Joe Higashi, they formed the sequel and defeated Geese in the tournament.
Product Features
8 inches (20.32cm)
Made of plastic
From the game The King of Fighters '98
Highly articulated
Translucent effect pieces
Collect all four of the KOF '98 UM characters: Omega Rugal / Kyo / Terry / Iori. (each sold separately) Each character will include 1/4 part of the Gravity Smash effect. Collect all four and you can create Omega Rugal's Gravity Smash effect.
Product includes:
Terry Bogard figure
4 Head sculpts
5 Interchangeable hands
Vest
Power Wave Effect
Power Geyser Effect
Burn Knuckle Effect
Part of Omega Rugal Gravity Smash Effect (1/4)
Reviews