Storm Collectibles The King of Fighters '98 Iori Yagami 1/12 Scale Action Figure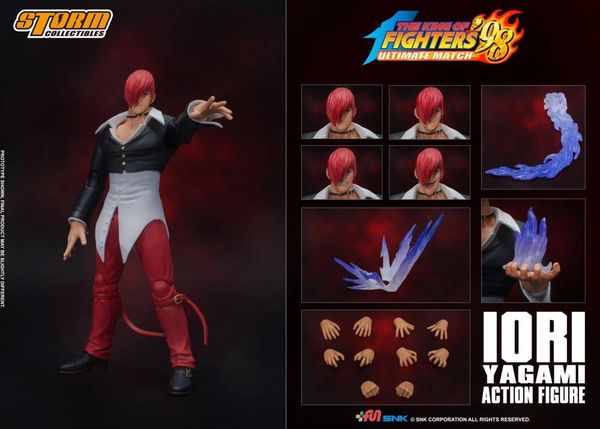 Storm Collectibles The King of Fighters '98 Iori Yagami 1/12 Scale Action Figure
Continuing their partnership with SNK, Storm Collectibles presents The King of Fighters '98 Ultimate Match action figure series. The King of Fighters is one of the most popular arcade fighting games worldwide and The King of Fighters '98 UM is considered to be the dream match with the most complete roster of characters.
This 1/12 scale figure features Iori Yagami, the central recurring character and the initial enemy and eventual rival of Kyo Kusanagi in the early King of Fighters series. Iori has a violent, intense and wild personality, his moves are unique, and his singular choice of hairstyle, wardrobe, and manner of speaking was certainly a personality that broke the mold for characters in all fighting games. Iori's official nickname is Flame of the End.

8 inches (20.32cm)
Made of plastic
From the game The King of Fighters '98
Highly articulated
Translucent effect pieces
Collect all four of the KOF '98 UM characters: Omega Rugal / Kyo / Terry / Iori. (each sold separately) Each character will include 1/4 part of the Gravity Smash effect. Collect all four and you can create Omega Rugal's Gravity Smash effect.
Product includes:
Iori Yagami figure
4 Heads
5 Hands
108 Shiki Yami Barai effect
100 Shiki Oni Yaki
Flame Effect
Part of Omega Rugal Gravity Smash Effect (1/4)
Reviews
Featured Products