*PRE-SALE* The Simpsons Ultimates Wave 1 Set of 5 Figures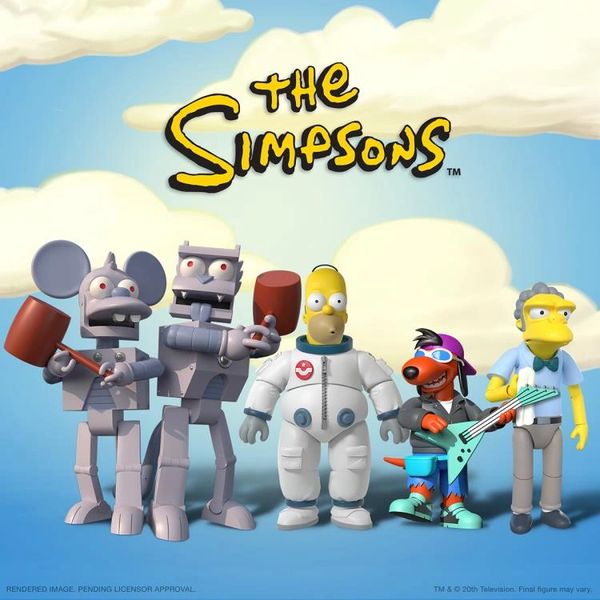 *PRE-SALE* The Simpsons Ultimates Wave 1 Set of 5 Figures
The Simpsons have arrived as a new line of Ultimates figures from Super7. 
The Simpsons Ultimates! are here, inspired by some of your favorite episodes, like "Deep Space Homer," "Itchy & Scratchy Land" and "The Itchy & Scratchy & Poochie Show."
Ultimates! details matter, and the more the merrier. That's why the Ultimates are made-to-order figures that come with a huge assortment of extra features—making them the most exceptionally intricate expressions of the character that we can possibly make, no matter how many extra faces it takes to get there.
Product Features
7 inches (17.78cm)
Made of plastic
Super articulated
Deluxe packaging
Based on The Simpsons
Product includes:
Deep Space Homer action figure

3 Interchangeable heads
6 Interchangeable hands
Space helmet
Bag of potato chips
Inanimate carbon rod (glows in the dark)
Experimental ant colony

Moe action figure

3 Interchangeable heads
8 Interchangeable hands
Panda in a box
Pickled eggs
Rag
Telephone
Flaming Moe
Soft goods apron

Poochie action figure

3 Interchangeable heads
6 Interchangeable hands
Guitar
Fanny pack
Surfboard
Skateboard

Robot Scratchy action figure

2 Interchangeable heads
4 Interchangeable hands
Chainsaw
Mallet
Axe
Baby axe
Knife
Machine gun
BORT license plate

Robot Itchy action figure

2 Interchangeable heads
4 Interchangeable hands
Chainsaw
Mallet
Axe
Machine gun
Drum
Drumsticks
Reviews