*PRE-SALE* Mezco Marvel One:12 Collective Deluxe Spider-Man Action Figure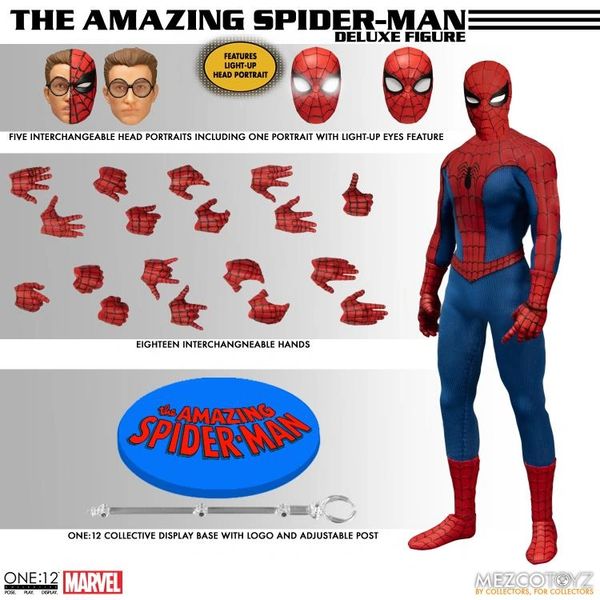 Estimated Arrival: First Quarter 2023
The One:12 Collective Amazing Spider-Man evokes the nostalgic look and feel of his early appearances in his comics, suited up in a classic Spider-Man suit with web detailing and a spider insignia on his front and back. The Amazing Spider-Man figure boasts a whooping 5 head portraits! These include a light-up eyes portrait, 2 masked portraits with different eye shapes, an unmasked Peter Parker portrait, and a Spider-Sense portrait.
Peter Parker has perfected his web formula and is brimming with all-new web accessories including a shield, parachute, body slingshot, lasso loop that attaches to the torsos of most One:12 Collective figures, a backpack that he can wear, and more. Track down the Green Goblin with the included spider-tracers or capture the perfect photo for the Daily Bugle with the included camera that can be worn around Spider-Man's neck.
Part time student, scientist, and photographer - full-time superhero. With arachnid abilities, Peter Parker swings above it all as Spider-Man who lives and fights with the wisdom of "with great power comes great responsibility".   
Green Goblin Figure not included.
Product Features
1/12 Scale
Made of plastic
Highly detailed
Highly articulated
Based on the Marvel Comics character
Features light up eyes portrait
Comes in collector-friendly packaging
Product includes:
Spider-Man action figure
5 Head portraits
18 interchangable hands

Pointing right hand
Thumbs up right hand
Pair of fists
Pair of camera holding hands
Pair of web shooting hands
Pair of web holding hands
Pair of grabbing hands
3 pairs of posing hands

Fitted suit
Pair of boots
Spider-sense FX
Spider-Man mask
Camera
6 Spider tracers
Spider tracer receiver
Web shield
Web mask
Web backpack
Web parachute
Web loop
Web sligshot
Web line with integrated posing wire
Web base with cobweb detail
One:12 display base
One:12 adjustable display post