Marvel Legends Spider-Man Retro Collection Gwen Stacy Action Figure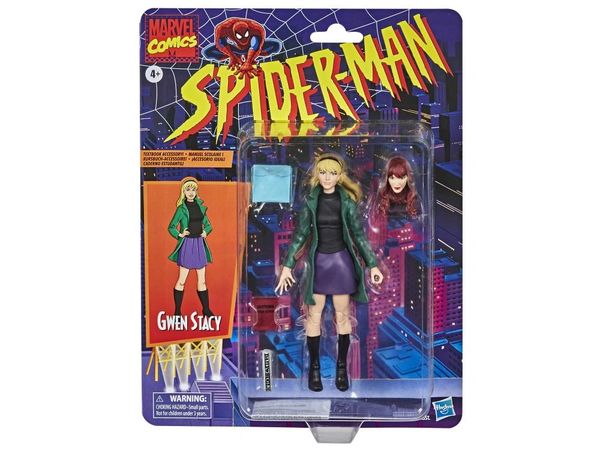 Marvel Legends Spider-Man Retro Collection Gwen Stacy Action Figure
A tribute to the history of Marvel Super Heroes, the Marvel Retro 6-inch Collection features core Marvel characters with retro packaging and design. Each figure includes multiple points of articulation, classic-inspired details, and character-specific accessories. Collectors and kids alike can expand their Marvel collection with 6-inch scale figures from the Marvel Retro Collection!

A bright student with a keen scientific mind, Gwen Stacy is girlfriend to Peter Parker.
The Spider-Man Legends Retro Gwen Stacy figure features premium design, detail and articulation for high poseability and display in a Marvel collection. Gwen Stacy features a retro design based on her appearance in classic Spider-Man comics, includes an alternate Mary Jane head sculpt, a yearbook, a file folder, a rolled-up newapaper, and comes in retro style packaging.
Product Features
6 inch scale (15.24cm)
Made of plastic
Vintage Spider-Man toy packaging
Multiple points of articulation
Classic-inspired details
Product includes:
Gwen Stacy action figure
Alternate Mary Jane head sculpt
Midtown High School yearbook
File folder
Rolled-up newspaper
Reviews