G.I. Joe Classified Series Gung-Ho Action Figure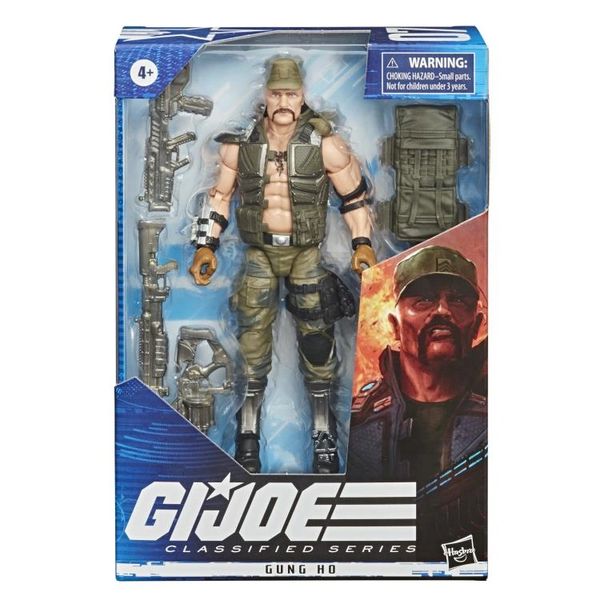 G.I. Joe Classified Series Gung-Ho Action Figure
"How would you like me to bench-press your face?"
G.I. Joe is America's daring, highly trained special mission force. It's purpose: to defend human freedom against COBRA... a ruthless, terrorist organization determined to rule the world! With unwavering courage and steely determination, the brave members of G.I. Joe are prepared to seek out Cobra in any environment on the planet. From hostile jungles to ice-clad arctic peaks… They'll fight for freedom, wherever there's trouble! G.I. Joe is there!  Gung-Ho explodes into a larger-than-life era with this new 6-inch scale figure. With his incredible physical strength, selfless bravery, and perseverance on the battlefield, the Cajun Marine known as Gung-Ho is the scariest jarhead to ever claw his way out the hole-in-the-swamp they call Parris Island! 
The G.I. Joe Classified Series by Hasbro evolves the characters fans know and love into highly articulated figures in the 6-inch scale, with premium deco and detailing.
This G.I. Joe Gung Ho figure comes ready for action, with multiple points of articulation for high poseability and character-inspired accessories, including his energy weapon. And with custom artwork by James Paick, the G.I. Joe Classified Series Gung Ho figure is perfect for display or play!
Product Features
6 inches (15.24cm) scale
Made of plastic
Part of the new G.I. Joe Classified Series
Highly articulated
Premium deco and detailing
Features classic design updated into the modern era
Accessories inspired by the character's rich history
Product includes:
Gung-Ho action figure
3 Guns
Backpack
Hat
Holster
G.I. Joe is a highly skilled, on-demand, special operations force of men and women from around the globe. These extraordinarily talented heroes are selected for their elite abilities and tasked with defending the world from Cobra, a ruthless criminal organization bent on total domination.
Reviews