*PRE-SALE* G.I. Joe Ultimates Wave 3 Set of 4 Action Figures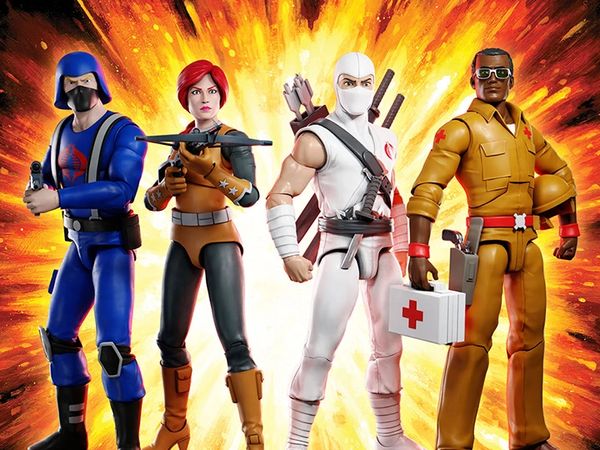 YO JOE! Your favorite characters from the G.I.Joe: A Real American Hero animated series are joining the Ultimates 7-inch scale figure line from Super7!
G.I. Joe is America's daring, highly trained special mission force! It's purpose: to defend human freedom against COBRA... a ruthless, terrorist organization determined to rule the world! These highly articulated, deluxe 7" scale figures highlight some of the most memorable characters from G.I.Joe: A Real American Hero. Just like a fresh cuppa Joe! The newest wave G.I. Joe ULTIMATES! figures are here to lift your spirits and perk up your G.I. Joe collection! Wave 3 of Super7's ULTIMATES! lineup includes some of the most capable, fearsome, mysterious, and underappreciated characters in the G.I. Joe universe: Scarlett, Doc, a Cobra Trooper, and Storm Shadow! Now you can finally re-create the classic "So a ninja, a doctor, a Cobra Trooper, and a covert ops specialist walk into a bar..." joke! Even if recreating that gag isn't on your bucket list, these limited edition, made-to-order G.I. Joe ULTIMATES! figures are simply to die for! So don't miss out! Order yours today!
Product Features
7 inches (17.78cm)
Made of plastic
Based on the G.I.Joe: A Real American Hero animated series
Part of the Ultimates line
Fully articulated
Product includes:
Storm Shadow action figure

2 Head sculpts
5 Pairs of hands
Tattoo arm part
Excalibur (GID)
Katana
Wakizashi
Tanto
3 Throwing stars
3 Arrows
Bow
Nunchucks
Sniper rifle

Scarlett action figure

3 Head sculpts
3 Pairs of hands
Quiver
3 Thermal arrows
Grapple arrow with rope
Jammer arrow
Incendiary arrow
Communicator
M16 rifle
Small crossbow
Large crossbow

Doc action figure

3 Head sculpts
4 Pairs of hands
Removable helmet
Joe laser rifle
Flare launcher
Flare pistol
Comic book
Medic kit
Walkie talkie
Satchel

Cobra Trooper action figure

2 Head sculpts
6 Pairs of hands
Alternate light and darked toned right hands
Dragunov sniper rifle
Cobra rifle
Cobra pistol
Electric whip
Walkie talkie
Briefcase bomb