*PRE-SALE* G.I. Joe Ultimates Storm Shadow Action Figure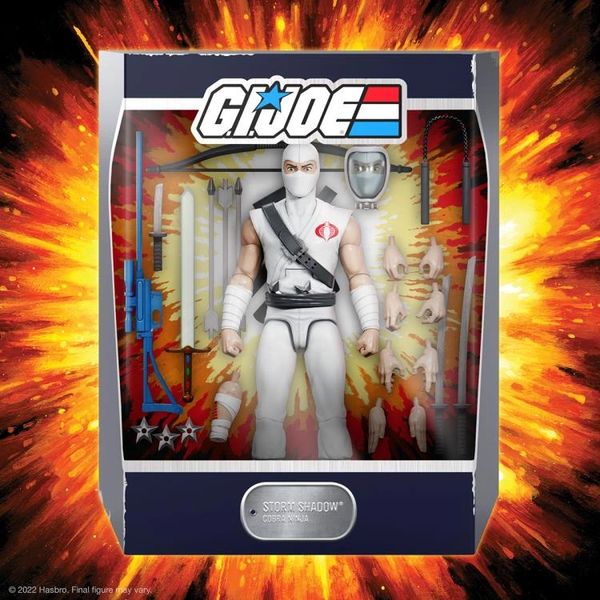 YO JOE! Your favorite characters from the G.I.Joe: A Real American Hero animated series are joining the Ultimates 7-inch scale figure line from Super7!
G.I. Joe is America's daring, highly trained special mission force! It's purpose: to defend human freedom against COBRA... a ruthless, terrorist organization determined to rule the world! These highly articulated, deluxe 7" scale figures highlight some of the most memorable characters from G.I.Joe: A Real American Hero. With shifting allegiances and a mysterious past, it's hard to know where Storm Shadow's loyalty truly lies, but this ninja comes from a long line of assassins and is a deadly foe to any who face him in battle! This 7" scale highly articulated G.I. Joe ULTIMATES! figure of Storm Shadow features premium decoration and comes with interchangeable heads & hands as well as a healthy arsenal of weapons. The only thing about Storm Shadow that isn't a mystery is how cool his made-to-order G.I. Joe ULTIMATES! figure is, so don't miss out on the opportunity to add it to your collection!
Product Features
7 inches (17.78cm)
Made of plastic
Based on the G.I.Joe: A Real American Hero animated series
Part of the Ultimates line
Fully articulated
Product includes:
Storm Shadow action figure
2 Head sculpts
5 Pairs of hands
Tattoo arm part
Excalibur (GID)
Katana
Wakizashi
Tanto
3 Throwing stars
3 Arrows
Bow
Nunchucks
Sniper rifle