*PRE-SALE* G.I. Joe Ultimates Scarlett Action Figure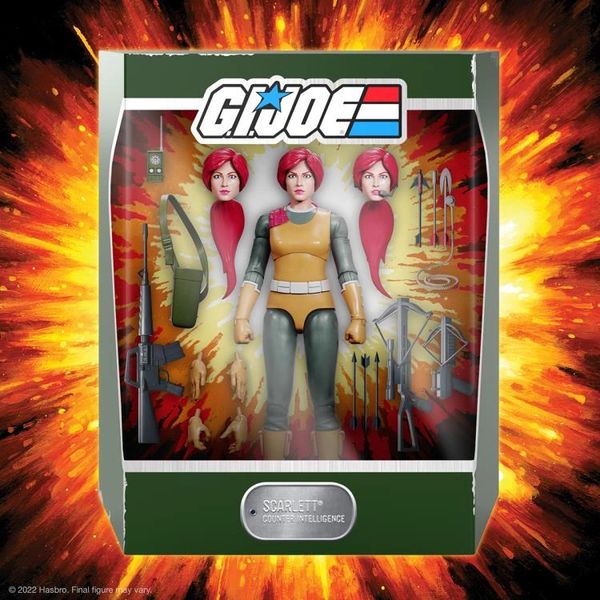 YO JOE! Your favorite characters from the G.I.Joe: A Real American Hero animated series are joining the Ultimates 7-inch scale figure line from Super7!
G.I. Joe is America's daring, highly trained special mission force! It's purpose: to defend human freedom against COBRA... a ruthless, terrorist organization determined to rule the world! These highly articulated, deluxe 7" scale figures highlight some of the most memorable characters from G.I.Joe: A Real American Hero. Beauty may only be skin deep, but lethal goes clean to the bone. With sniper, martial arts, and covert ops training, those who misjudge Scarlett as a less than a formidable opponent do so at their own peril! This 7" scale highly articulated G.I. Joe ULTIMATES! figure of Scarlett features premium decoration and comes with interchangeable heads & hands as well as a variety of accessories, including her crossbow and a medley of trick arrows. Scarlett may be tougher than she looks, but her made-to-order G.I. Joe ULTIMATES! figure is every bit as amazing as it appears and would be a great addition to your roster of G.I. Joe collectibles!
Product Features
7 inches (17.78cm)
Made of plastic
Based on the G.I.Joe: A Real American Hero animated series
Part of the Ultimates line
Fully articulated
Box Contents
Scarlett action figure
3 Head sculpts
3 Pairs of hands
Quiver
3 Thermal arrows
Grapple arrow with rope
Jammer arrow
Incendiary arrow
Communicator
M16 rifle
Small crossbow
Large crossbow