*PRE-SALE* G.I. Joe Ultimates Doc Action Figure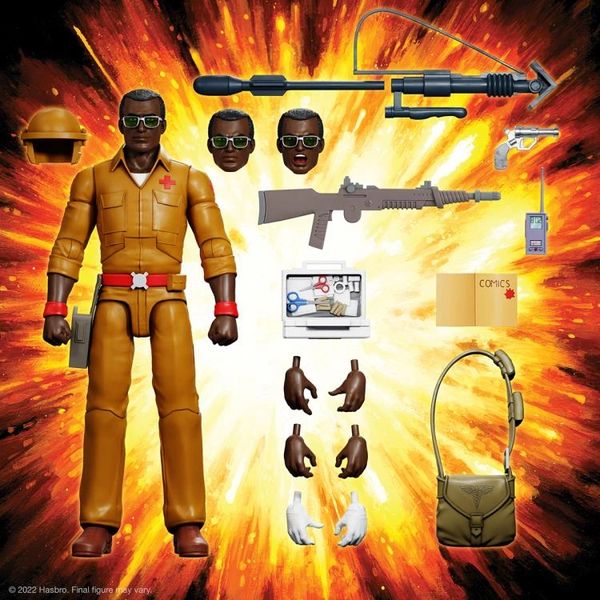 YO JOE! Your favorite characters from the G.I.Joe: A Real American Hero animated series are joining the Ultimates 7-inch scale figure line from Super7!
G.I. Joe is America's daring, highly trained special mission force! It's purpose: to defend human freedom against COBRA... a ruthless, terrorist organization determined to rule the world! These highly articulated, deluxe 7" scale figures highlight some of the most memorable characters from G.I.Joe: A Real American Hero. He has a PhD from an Ivy League university, completed Airborne School, Mountaineering School, the Desert Training Unit, and he's a chaplain's assistant. With that level of training and know-how, Carl W. Greer, AKA Doc, can use his skill, knowledge, and cunning to help G.I. Joe thwart Cobra's nefarious plans without having to resort to violence. This 7" scale highly articulated G.I. Joe ULTIMATES! figure of Doc features premium decoration and comes with interchangeable heads & hands as well as a variety of accessories. He's often overshadowed by some of the flashier characters, but as a medic, Doc is one of the most indispensable and the made-to-order G.I. Joe ULTIMATES! figure of Doc will be an equally indispensable part of your collection!
Product Features
7 inches (17.78cm)
Made of plastic
Based on the G.I.Joe: A Real American Hero animated series
Part of the Ultimates line
Fully articulated
Product includes:
Doc action figure
3 Head sculpts
4 Pairs of hands
Removable helmet
Joe laser rifle
Flare launcher
Flare pistol
Comic book
Medic kit
Walkie talkie
Satchel