*PRE-SALE* G.I. Joe Classified Series Sgt. Slaughter Action Figure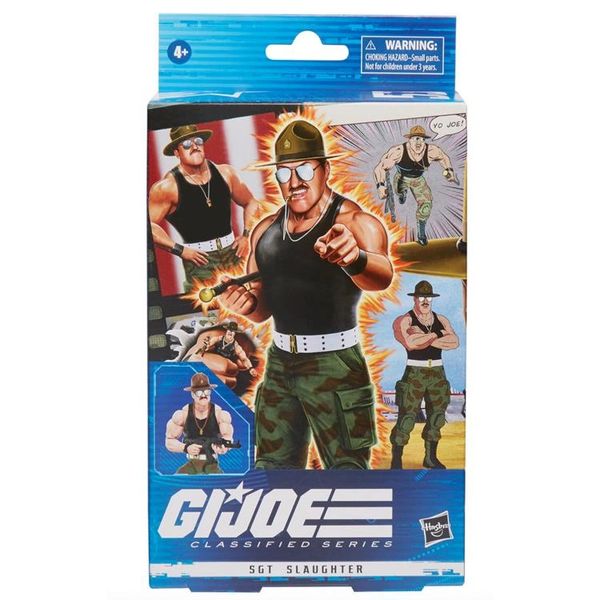 G.I. Joe is America's daring, highly trained special mission force. It's purpose: to defend human freedom against COBRA... a ruthless, terrorist organization determined to rule the world! With unwavering courage and steely determination, the brave members of G.I. Joe are prepared to seek out Cobra in any environment on the planet. 
"At ease, disease!" This Sgt. Slaughter figure comes ready for action, with multiple points of articulation for high poseability and 14 character-inspired accessories including his signature drill sergeant hat, sunglasses, whistle, instructor baton, miniature carded action figure, 8 interchangeable hands, and additional weapon accessories; plus a footlocker to stow all his gear! And with custom artwork by Adam Riches highlighting his media-spanning career in the Joe universe, the G.I. Joe Classified Series Sgt. Slaughter package will make a fine addition to your collection!

Classified Series
G.I. Joe Classified Series is loaded with iconic personalities from the epic history of the G.I. Joe: A Real American Hero franchise. These fan-favorite characters are presented in 6-inch scale with premium detailing, packaging, and accessories, with advanced articulation that raises the vibrant heroes and villains of G.I. Joe to the next level. With a robust roster of G.I. Joe and Cobra characters, the Classified Series of G.I. Joe action figures pays homage to the past while embracing the modern, for G.I. Joe fans new, old, and in between.
Product Features
6 inches (15.24cm)
Made of plastic
Highly articulated
Premium deco and details
Original package artwork
Product includes:
Sgt. Slaughter action figure
8 Interchangeable hands
Hat
Sunglasses
Whistle
Baton
Mini figure
Machine gun
Footlocker