Marvel One:12 Collective Iron Fist Action Figure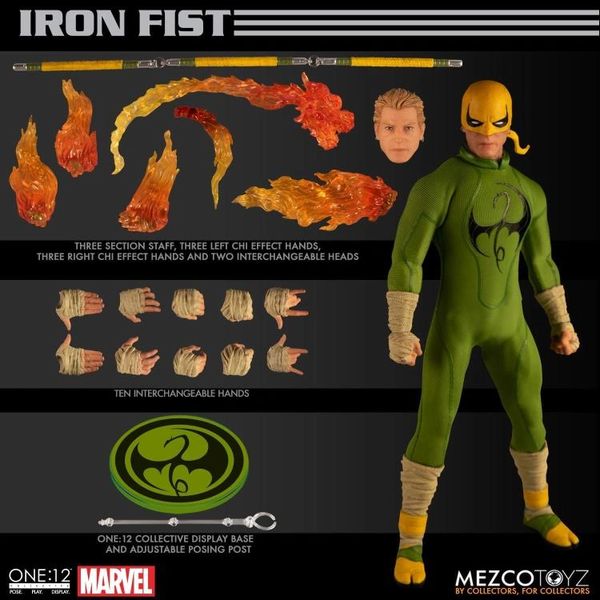 Marvel One:12 Collective Iron Fist Action Figure
From Mezco. Wearing a fitted suit with dragon insignia, the master of martial arts comes complete with two head portraits and a range of chi effects including a Shou-Lao fist effect that is attached to his interchangeable hand. Iron Fist is well-equipped with a three-section staff that is connected by a real chain.
Trained in the ways of martial arts at K'un-Lun, Danny Rand is given the chance to attain the power of the Iron Fist by defeating Shou-Lao the Undying, a dragon who guards the molten heart that had been torn from its body. After doing so, Danny becomes the immortal Iron First and learns how to harness his immense power to save others and fight honorable battles.
Note: Although not pictured, Iron Fist does include his iconic waist sash.
Product Features
6.70 inches (17cm)
Made of plastic
One:12 Collective body with over 28 points of articulation
Hand painted authentic detailing
Three-section staff is connected by a real chain
Packaged in a collector friendly box, designed with collectors in mind
Product includes:

Iron Fist action figure

Alternate head
10 Interchangeable hands

Pair of fists 
Pair of holding hands 
Pair of karate chop hands 
Pair of grabbing hands 
Pair of posing hands 

Fitted suit with dragon insignia
Wrist wraps (permanently affixed to wrists)
Shin wraps (permanently affixed to shins)
Tabi-style sandals
One (1) tTShou-Lao effect (affixed to interchangeable right hand)
Pair of chi punching effects (affixed to interchangeable left & right hands)
Iron fist punch effect (affixed to interchangeable right hand)
Chi karate chop effect (affixed to interchangeable left hand)
Chi posing effect (affixed to interchangeable left hand)
One:12 Collective display base with logo
One:12 Collective adjustable display post
Reviews
Featured Products