Marvel Legends The Uncanny X-Men Retro Collection Wolverine Action Figure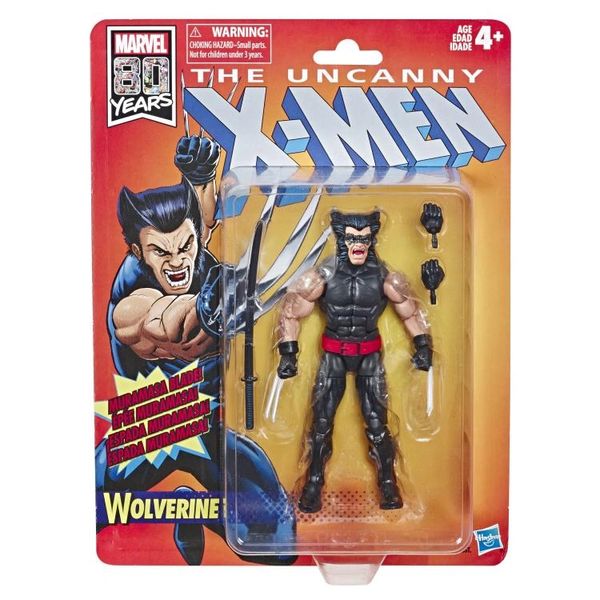 Marvel Legends The Uncanny X-Men Retro Collection Wolverine Action Figure
A tribute to the history of the 90's Marvel Super Heroes line from Toy Biz, the Marvel Retro 6-inch Collection features core Marvel characters with retro packaging and design. Each figure includes multiple points of articulation, classic-inspired details, and character-specific accessories. Collectors and kids alike can expand their Marvel collection with 6-inch scale figures from the Marvel Retro Collection!
He's the best there is at what he does... but what he does isn't very nice. Wolverine is the X-Men's greatest fighter; A master of multipls forms of hand-to-hand combat, Wolverine also has a fearsome secret weapon - razor sharp retractable adamantium claws that can slice through anything! Coupled with a remarkable mutant healing factor, adamantium-laced bones, and his feral berserker rage, Wolverine is virtually unstoppable, and unkillable!
Based on the classic 1980's "Madripoor era" of Wolverine in the comics by Chris Claremont and John Buscema, and includes the famed Muramasa Blade, 
Imagine the fierce, clawed mutant battling through the pages of Marvel X-Men comics with this 6-inch-scale Wolverine vintage figure, including 3 character-inspired accessories!
Product Features
6 inch (15.24cm) scale
Made of plastic
Retro design and packaging
Multiple points of articulation
Classic-inspired details
Muramasa Sword accessory
Box Includes:
Wolverine figure
Muramasa Sword
Alternate pair of hands
Reviews