Jurassic World: Camp Cretaceous Epic Roarin' Tyrannosaurus Rex Action Figure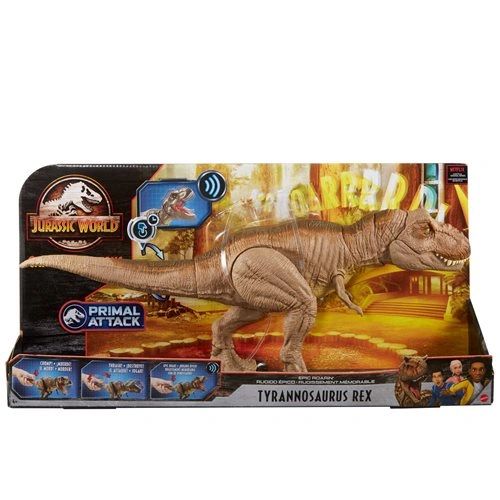 Jurassic World: Camp Cretaceous Epic Roarin' Tyrannosaurus Rex Action Figure
Be a part of the adventure with the Epic Roaring Tyrannosaurus Rex inspired by the animated series, Jurassic World Camp Cretaceous! This larger-scale dinosaur action figure features Primal Attack which enables kids to control the battle play with awesome battle moves. Move the tail up and down, side to side and around for head movements, body twists and an awesome chomping action to activate all moves at once for total animated control of the figure. Push and hold the button on the tail for the ultimate epic roar and realistic shaking! The dinosaur action figure also features authentic sculpting, movable joints, authentic color and realistic texture. Recreate all the epic battle-action scenes with this Epic Roaring Tyrannosaurus Rex, but watch out, this Tyrannosaurus Rex has a huge roar and even bigger bite! Makes a great gift for ages 4 years old and up especially fans of Jurassic World, dinosaurs and action play! For more dinosaur fun, download the Jurassic World Facts app on your Android and iOS to scan and watch your dinosaur come to life, zoom in on dinosaurs up close, hear dinosaur roars, learn fun dinosaur facts and more! Requires 3x "AA" batteries, included. Ages 4 and up.

Product Features
Made of plastic
From the Jurassic World: Camp Cretaceous Animated Series
Highly detailed
Poseable
Biting, thrashing action with roaring sound
Deluxe packaging
Requires 3x "AA" batteries, included.

Product includes:
Epic Roarin' Tyrannosaurus action figure
Reviews