Dungeons &Dragons: Nolzur's Marvelous Miniatures: Red Slaad Paint Night Kit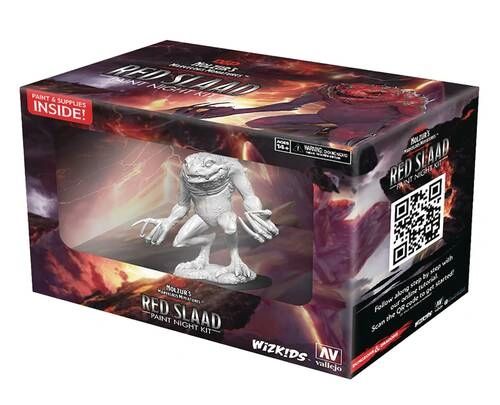 Dungeons &Dragons: Nolzur's Marvelous Miniatures: Red Slaad Paint Night Kit
Get your hands on the D&D Nolzur's Marvelous Miniatures: Red Slaad figure and join in with friends and family in this exciting Paint Night Event from the comfort of your own home! Specially designed to help painters at all levels! This paint kit includes everything you need to paint your Red Slaad, and get started painting your own D&D miniatures! Access to an expert step-by-step tutorial by Den of Imagination!
This is a fantastic buy for any painter or fantasy game player. An Red Slaad, paints and brushes...a perfect option whether you are a long-time painter, getting back into it or getting into painting for the first time. And remember, this is a very limited product, it won't be around for long.
Even if you don't play and just enjoy the art of miniature painting, these pieces are for you. The pre-primed miniatures are ready to paint right out of the box. No need for messy priming!
Dungeons and Dragons Nolzur's Marvelous Miniatures come with highly detailed figures, primed with Vallejo primer ready to paint out of the box. These fantastic miniatures include deep cuts for easier painting. The images provided are stock images. The product purchased is a factory sealed blister pack including the miniatures pictured. Nolzur's Marvelous Unpainted Miniatures are produced by WizKids.
Product includes:
1 x D&D Nolzur's Marvelous Miniature: Red Slaad

12 x Expertly curated Vallejo colors

2 x Brushes

1 x Water pot and the ability to use the blister pack as the paint palette!
Reviews