*PRE-SALE* Darkwing Duck Dynamic 8ction Heroes DAH-040 Darkwing Duck Action Figure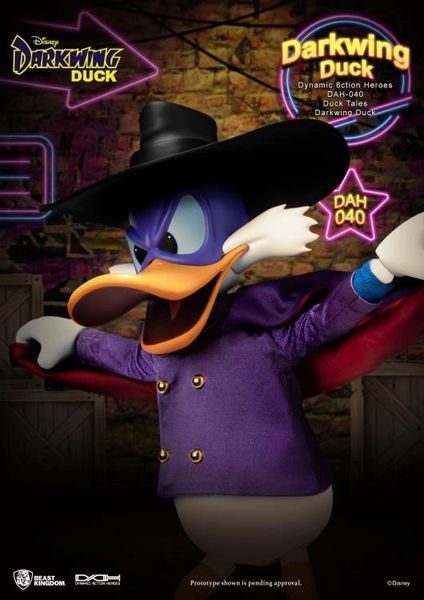 *PRE-SALE* Darkwing Duck Dynamic 8ction Heroes DAH-040 Darkwing Duck Action Figure
Somewhere some villain schemes, but their number's up!

Let's get dangerous!
Disney's Darkwing Duck has once again fought his way back into popular culture, with fan-favorite comic books and appearances in a new animated DuckTales reboot from Disney. The classic 90's show introduced us to the Duck Knight detective, a crimefighter unlike any other.! Part superhero, part detective,  and a devoted father figure to his adopted daughter Gosalyn, the daring duck of mystery swoops out of the shadows to put an end to the malevolent machinations of vile villains and nefarious n'er do-wells! Aided by his friend Launchpad McQuack, and a host of gadgets and gizmos, Darkwing Duck is as comedic as he is heroic!
Beast Kingdom's, 'Entertainment Experience Brand' showcases the very best in DAH (Dynamic 8ction Hero) design. The well rounded, highly articulated duck is ready to leap and bound across buildings in one fell swoop. This figure features a full cloth suit and is equipped with his favorite gas/grappling gun. Multiple interchangeable accessories such as alternate facial expressions, hands and base stand are also included.
Product Features
6.50 inches (16.50cm)

Made of plastic and fabric

Highly articulated

Part of the Dynamic 8ction Heroes line

Based on the classic Darkwing Duck animated series
Product includes:

Darkwing Duck action figure

3 Eye/Mask parts

2 Mouth parts

5 Pairs of hands

Grappling hook

Stand
Reviews