Batman: The Animated Series Masterminds & Mayhem Gotham City Under Siege Game Expansion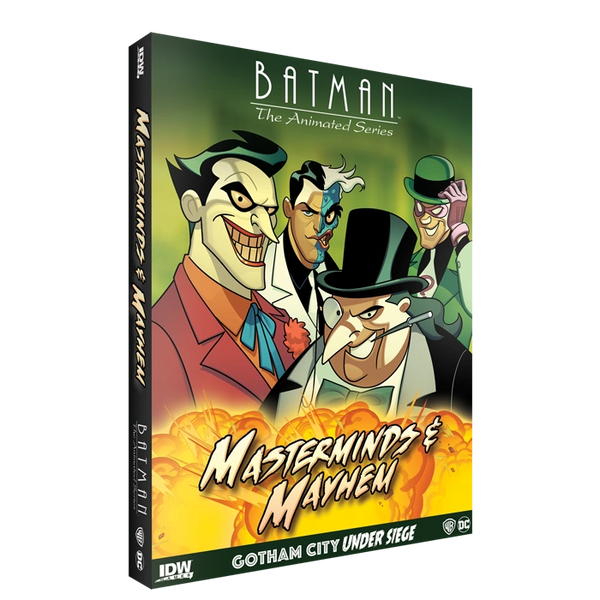 Batman: The Animated Series Masterminds & Mayhem Gotham City Under Siege Game Expansion
From IDW Games. Based on Batman: The Animated Series, Gotham City's most infamous villains have put the city into chaos once again. It's up to Batman, Robin, Batgirl, Commissioner Gordon and the Gotham City Police Department along with the unlikely aid of Catwoman to restore peace and prevent the total destruction of Gotham City!
Batman's enemies were thwarted in Gotham City Under Siege, but they've returned with a vengeance in the Masterminds & Mayhem expansion! In their latest attack, the Masterminds have brought deadlier weapons, like armored cars and massive explosives, and have taken to the streets to fight alongside their hired goons. The villains' tactics have also improved, with new Rooftop Villains and Act Leader Target mechanics. Don the cape once more and help protect Gotham City from these deadly new threats!
Designed by Richard Launius and Michael Guigliano, Gotham City Under Siege is a cooperative game for 1 to 5 players, Each player takes on the role of a powerful Gotham City super hero and must defend the city over the course of four acts, with each act inspired by episodes from the first season of the show. Players will need to work together to find the right balance between completing challenging story cards, or taking down the villains and masterminds running rampant in the streets!
PLEASE NOTE: Requires the Gotham City Under Siege base game to play.
Product Features
From Batman: The Animated Series
For 1 to 5 players, ages 14 and up
45-60 minute playing time
Designer: Richard Launius & Michael Guigliano
Product includes:
20 Mastermind Cards
5 Hero Skill Cards
8 Story Cards
4 City Block Cards
4 Event Cards
1 Replacement GCUS Card
1 Coin Token
4 Killer Plant Tokens
5 Riddle Tokens
5 Vehicle Tokens
1 Rulebook

Ages: 14+
Players: 1-5
Game Length: 45-60 minutes
Reviews